Look at where DefinitelyTyped is Now
A Little Wondering
I installed Visual Studio 2015 the other night and was just poking around and stumbled upon the Cordova Project Template that is provided. This not necessarily that new, but is new to me as I spend most of my time these days working on a Mac doing iOS, Docker (for server-side stuff) and other projects. Though, I miss and still enjoy the benefits of Visual Studio for some projects.
While looking over the project template, I was surprised to see a familiar folder structure typings/cordova/* in the project.
Why is this folder structure familiar?
Because I created it almost 2 years ago when I threw together a PowerShell script that chucks DefinitelyTyped TypeScript definitions up onto NuGet.
Another example of the folder structure, while I can't say for certain, but I can only guess that when the winjs started converting over to TypeScript that they chose to put their type definitions into the same structure. I won't claim to have inspired it, but would be cool to say I did.
It was a bit surprising and humbling to discover Microsoft had in one of their default templates a reference to some TypeScript type definitions that (while I didn't have anything to do with the creation of the definitions, nor DefinitelyTyped) I did created the simple little utility that runs continuously up on TeamCity.CodeBetter.com and tirelessly updates NuGet packages as they change over on DefinitelyTyped.
This reminded me, that I hadn't checked up on the NuGet user account for DefinitelyTyped in quite a while so I decided to head over to the NuGet.org, take a glance at the account and check out how many downloads there had been?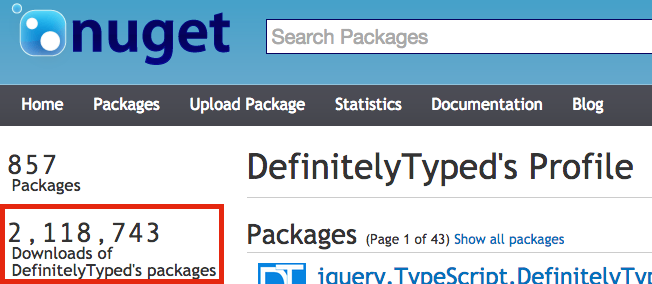 ** HOLY Typings **, there've been over 2 million DT type definitions?
This little ditty was neat to find. I haven't done a ton with TypeScript in a while, but it's quite amazing to see the traction it is starting to gain.
This means that the TeamCity over at CodeBetter has pretty much been cranking out new and updated DefinitelyTyped TypeScript definitions for almost the last two years, but it's time to re-visit…
Thanks TeamCity @ CodeBetter
Before all of the new, cool, and hip online continuous integration systems came to be, one of the only free options for open source was an instance of JetBrains TeamCity over at CodeBetter and I'd like to throw out a big thank you for those at CodeBetter who put the time and effort into hosting this service for many of the .Net OSS projects out there.
Hello AppVeyor
I recently ported this job to an AppVeyor build for the DT project and after a quick round of using their wonderful support to work through a hurdle, I completed a new build at AppVeyor that replicated the one originally hosted on the TeamCity server.
So a HUGE thanks to AppVeyor for creating such great product, and offering free builds to the OSS community.
I'll keep an eye on the new build for a while (before I forget about it) and hopefully it'll run for another long time to come.
Happy TypeScripting!